Australian Gambling Statistics: How Big is the AU Casino Market?
It`s no secret that virtual gambling is one of the fastest-growing segments of the entertainment world. The latest Australian Communications and Media Authority report shows that more than 11% of Aussies participate in real-money online games. This figure is an increase of almost 8% compared to similar Australian gambling statistics of 2020. This is not surprising since modern technology allows enthusiasts to bet anytime.
The gambling growth is also due to local laws. The national government, together with individual states, have lifted bans on this form of entertainment. Casino platforms are licensed by local regulators, meaning adult users do not violate any rules while placing bets. This review gathered all available information about the Aussie iGaming market, statistics, and more. Sit back and continue reading.
The Scale of the Australian Gambling Market
According to gambling stats Australia, the local gambling sector is one of the most lucrative in the world. From casinos to sports betting and everything in between, Australians love to try their luck and win big. But just how big is this industry? In this paragraph, we`ll explore the local gambling money market scale along with the associated data and aspects.
Gambling Regulation on Australian Territories
The regulation is presented as a combination of state and territory authorities, as well as the federal government. The mentioned Australian Communications and Media Authority oversees the iGaming segment across the country. When it comes to offline casino establishments, their regulation falls under the jurisdiction of individual state and territory governments. They have their own regulatory body to monitor gaming operations within their borders.
| | |
| --- | --- |
| State | Regulation |
| New South Wales | Office for Liquor, Gaming and Racing |
| Northern Territory | Racing Commission |
| Queensland | Office of Liquor and Gaming Regulation |
| South Australia | Independent Gambling Authority |
| Tasmania | Department of Treasury and Finance |
| Victoria | Victorian Commission for Gambling and Liquor Regulation |
| Western Australia | Department of Racing |
The Racing Commission controls all aspects of gaming in the Northern Territory, while the Office of Liquor and Gaming Regulation is responsible in Queensland. In addition to these entities, there are also several national bodies like the Australian Racing Board and Clubs Australia.
Australian Casino Properties
According to recent gambling stats Australia, there are currently around 20 full-scale casinos, with most located in major cities like Sydney and Melbourne. They come with pokies, baccarat, roulette, lotteries, and more. Many also offer dining options and other entertainment, such as live music performances or comedy shows. Here are the TOP-5 of them with slot machines and table games.
| | |
| --- | --- |
| City | Casino |
| Sydney | Crown Casino |
| Brisbane | Treasury Casino |
| Canberra | Casino Canberra |
| Melbourne | Crown Melbourne |
| Cairns | The Reef Hotel Casino |
This segment is developing here at the same speed as its virtual counterpart. According to the latest gambling statistics Australia, there are over 200,000 individuals employed in the gaming industry across the country. These jobs range from casino dealers and managers to marketing and advertising executives. Each role plays an important part in keeping the industry running smoothly and efficiently.
One reason why so many people work in this sector is because of its size. The Australian gambling market is one of the largest in the world, generating billions of dollars gambling money each year. This career path can be attractive for many individuals looking for stable employment opportunities.
Aussies' Expenditures on Gambling in 2023
Locals never miss a chance to place a bet. Whether it`s a punt on the horses or a spin on the pokies, gambling is ingrained in local culture. But just how much money do Aussies expenditure on this pastime? We are about to take a closer look at each type of gambling and make some predictions for how much we can expect to see spent in 2023.
Horse & Greyhound Racing
The thrill of watching these majestic animals race to the finish line is hard to resist. But it`s not just about the excitement – there`s also big money at stake in these races. According to updated Australia gambling statistics, the expenditures in this area have exceeded $1,000,000 annually between 2018 and 2022. There is no reason to believe it will decrease in 2023. On the contrary, it is likely to increase due to the large number of casino sites.
Pokie Machines
Recently, there has been a decline in revenue and expenditures from pokies due to increased competition from online gambling sites. The government has implemented mandatory pre-commitment limits and voluntary self-exclusion programs to help combat problem gambling related to pokies. However, it is still estimated that Australians will spend over $10 billion on pokie machines within 2023.
Poker Games
Statistics on gambling in Australia from the AIFS (Australian Institute of Family Studies) show that the first surge in poker occurred in 2015. That year, more than 130,000 adult Aussies participated in the card game with annual expenditures of $1,700. Since then, those numbers have risen significantly. The number of poker enthusiasts is expected to grow to 300,000, with expenditures of $2,000 in 2023.
Casino Table Games
Games like blackjack, baccarat, roulette, craps and many more have always lured people with their glitz and glamour. Gambling Stats Australia expect them to play an important role in determining the total amount of money spent on gambling in 2023. With the advent of live dealers, this amount has long exceeded $500,000 in annual expenditures and continues to grow.
Scratch Cards
Once again, we turn to online gambling Australia statistics and data to find out how attractive scratch cards are to local enthusiasts. Since 2018, the number of people who bought scratch cards has been increasing from 8.0 to 8.8 million, representing about 42% of the country`s adult population. Total cards expenditures remain at 3 million AUD, with the same projections in 2023. The appeal of instant gratification and a small investment with potentially significant returns make this gambling form an attractive option for many punters.
Lotteries and Keno
As Australian gambling statistics say, keno showed consistently high results, attracting a huge number of punters from 2019 to 2022. It is such a popular entertainment that New South Wales alone spends an average of $150 million annually. Lotteries are in demand as well. Every year, well over 7 million Australians buy tickets in the hope of filling their pockets. Lottery and keno revenues will grow in 2023.
Sports Betting
Australian enthusiasts claim to expand 45% of their wagers on sports predictions. Typically, they choose football, tennis, baseball, and basketball. As a result, this area of virtual gambling has over $1,000,000 in annual gambling money spending.
Who is Playing the Most? Australian Gambling Statistics by Age Groups
Australians are known for their passion for gambling and various bets. While many participate for fun, others turn it into extra income. Gambling Australia statistics that people of all ages and genders are involved. We are here to tell you about the categories of enthusiasts who play the most.
Players under 18. About 16% of Australians start betting before they are of legal age. According to surveys, most of them start playing when they are 16-17, and it often leads to gambling addiction. Besides, males make up more than half of this category.
Adults over 50. About 27.5% of the country`s population ages 18-24 are involved in gambling. And 37.5% of Australians aged 25-34 regularly visit virtual casinos. However, this is even higher among people over 50. More than 60% of Aussies aged between 50 and 64 bet online, while the figure is 57% among those over 65.
Full-time workers. The industry statistics Australia also include full-time workers, some of whom make up over 80% of the population. Among the Aussies with an average $29,500 income, 19.3% are active gamblers. 20% of those who earn up to $73,499 visit virtual and offline casinos. The same percentage of involvement is among those earning more than $73,499.
The male audience is larger. According to the newest statistics by gender, 54.2% are male, and the rest are female. For example, 80% of men place gambling money on bets on sports, while only 12% of women do that.
In general, we can say that all categories of Australians participate in some form of gambling. Of course, men make up more than half. Also, the tendency of betting among minors is growing, and the government is paying special attention to this aspect lately.
Online Gambling Statistics In Australia
The phenomenon of virtual gambling is its accessibility. Although there are plenty of land-based casinos in the country, most enthusiasts prefer instant betting through the websites. According to Australian gambling statistics cited by IMARC Group, virtual platforms have become more popular with the advent of mobile apps and VR technology. They have taken the gaming experience to a new level, making it available anytime, anywhere. Let`s see how this is reflected in numbers.
Let`s start with the most important Australian gambling statistics – the annual revenue of the iGaming market in the country, which recently surpassed the $5 billion mark.
From 2018 to 2019, more than 1.8 million Australians bet on horse racing online. Most were people over 50. Since then, that number has been growing.
Right now, the New South Wales territory has the most significant annual virtual gambling turnover, ahead of Victoria and Queensland.
As for problem gambling statistics Australia, four out of five punters are at risk or experiencing damage related to online gambling.
In 2023, eSports is growing in popularity across the country. Thus, 65.9% of online players surveyed bet on eSports events at the most popular casinos.
Recent gambling and sports betting stats show Australian casinos and players are embracing new technologies, particularly VR and eSports. The market is showing continuous growth, increasing annual revenues. Presently, New South Wales, Queensland, and Victoria are the most attractive regions for both virtual and offline gambling.
Interesting Facts about Aussie Gambling
Is there anything Australians love more than gambling? It`s unlikely. Local enthusiasts spend hours a day exploring various casino sites and placing bets. While for many, it`s a traditional pastime; others go out of their way to learn the facts and peculiarities of gambling. Have you ever wondered why Aussies love this entertainment so much? How many slot machines are available in the country? Or how many casinos in Australia are presented? We are here to answer these questions by telling you the most interesting data.
With the available information, the country's territory accounts for 20% of the world`s slot machines (about 200,000). However, half of them are located in New South Wales alone, the most popular gambling state.
The Australian government does not hinder the iGaming market because it provides a stable and gigantic financial flow (one of the most massive in the world).
The official Australian gambling statistics and data of AGRC state that more than 80% of local adults bet at land-based and virtual casinos.
Aussies are big (but not the biggest) losers. On average, most enthusiasts here lose an average of $12,000 gambling money a year. This is because they prefer to make large bets, which also leads to high risks.
About 40% of Australians play poker. They usually choose online machines with a payout between 90% and 95%.
Did you know Australia`s biggest poker win went to America? It happened during The Big One for One Drop, a charity tournament held in Australia in 2012. The American Antonio Esfandiari won the final and claimed his prize of AU$1,000,000!
Here is one of the gambling facts Australia: locals have been enjoying remote gambling for almost 30 years. The first virtual casinos made their debut in the country in 1994 under licenses from Barbuda and Antigua. Still, most online platforms operate under the supervision of Caribbean governments.
Australians bet even on family members. Joking aside! In 2000, Peter Edwards bet with members of his family that his grandson would be included in the Australian national football team. Thirteen years later, his grandson Harry Wilson debuted, bringing his grandfather a $240,000 win.
During the COVID-19 pandemic, the number of online players in Australia increased to 78% in a few weeks.
Those interested in gambling in Australia facts learned a lot of information. Thus, this is one of the biggest iGaming centres in the world. There are many offline and virtual casinos with great fun, from pokies to live dealers and lotteries. In addition to games, you can bet on sporting events, horse racing, and even relatives (just kidding).
Australian gambling statistics On Casino-Related Problems and Harms
Casino games can be an exciting activity for many people, but they also have the potential to become addictive and cause significant harm to individuals and their families. Here we will explore Australian problem gambling statistics, signs of addiction, symptoms, and effective treatment options available for those who need help.
Addiction is the Main Danger
This is a severe health problem that can have devastating consequences for punters. One of the key characteristics of gambling addiction is the inability to stop even when faced with negative implications. This might include financial difficulties, health problems, and others. The problem has become so widespread that iGaming regulators require casinos to have a "Responsible Gaming" information section designed for customers needing help.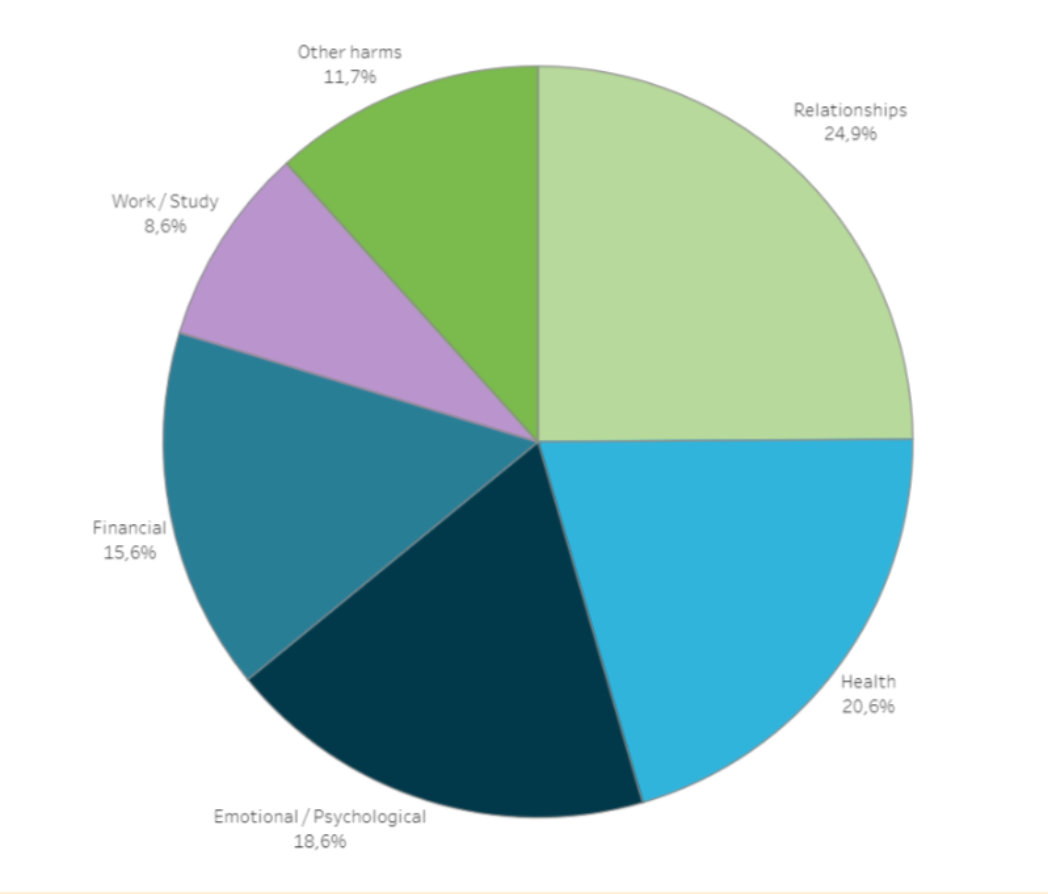 Share of gambling-related harm in different spheres of life (Australian Institute of Health and Welfare)
The First Symptoms
One common symptom is the need to gamble with increasing amounts of money to achieve the desired level of excitement or thrill. This behaviour often leads to financial difficulties and debts that are difficult to pay off.
Gambling statistics Australia also mention another symptom: difficulty controlling or stopping gaming activities. Individuals may try to stop but find themselves unable to resist the urge despite negative consequences such as loss of employment, strained relationships, sleep disorder and related health problems.
Other symptoms include preoccupation with thoughts about gambling. Punters start lying about time spent on casino websites or hiding financial losses from loved ones.
Effective Treatment
This is not an easy task, but it`s essential for those who struggle with addiction. The first step in treating this condition is to recognise that there is a problem and seek help from professionals. There are various treatment options available, including health therapy, medication, support groups and self-help strategies.
Australian gambling statistics regarding addiction say that 5% of problem players take a "Responsible Gaming" approach, reducing their involvement through deposit and betting limits. If your problem is more serious, ask a professional for help.
The Impact of COVID-19 on the Australian iGaming Market: Data
As the world continues to grapple with the impact of the pandemic, many industries have been forced to adapt and change to survive. Australia`s iGaming market has experienced challenges and opportunities since the pandemic began.
Before the onset of COVID-19, the Aussie gaming market was already a thriving and growing industry. In fact, it had been experiencing steady growth for several years. This was due in part to increasing consumer demand for online gaming options, as well as advances in technology that made these games more accessible.
The pandemic has impacted the local iGaming market. With the implementation of social distancing and other health measures, people have been forced to stay at home and seek different forms of entertainment. As a result, online gaming platforms saw a surge in user activity.
One notable effect is the increase in gambling money sums generated by iGaming operators. The Australian Communications and Media Authority reported that online gambling spending rose by 67% during March and April 2020 compared to the same period the previous year. Below is the growth in popularity of online gambling entertainment before and during the pandemic.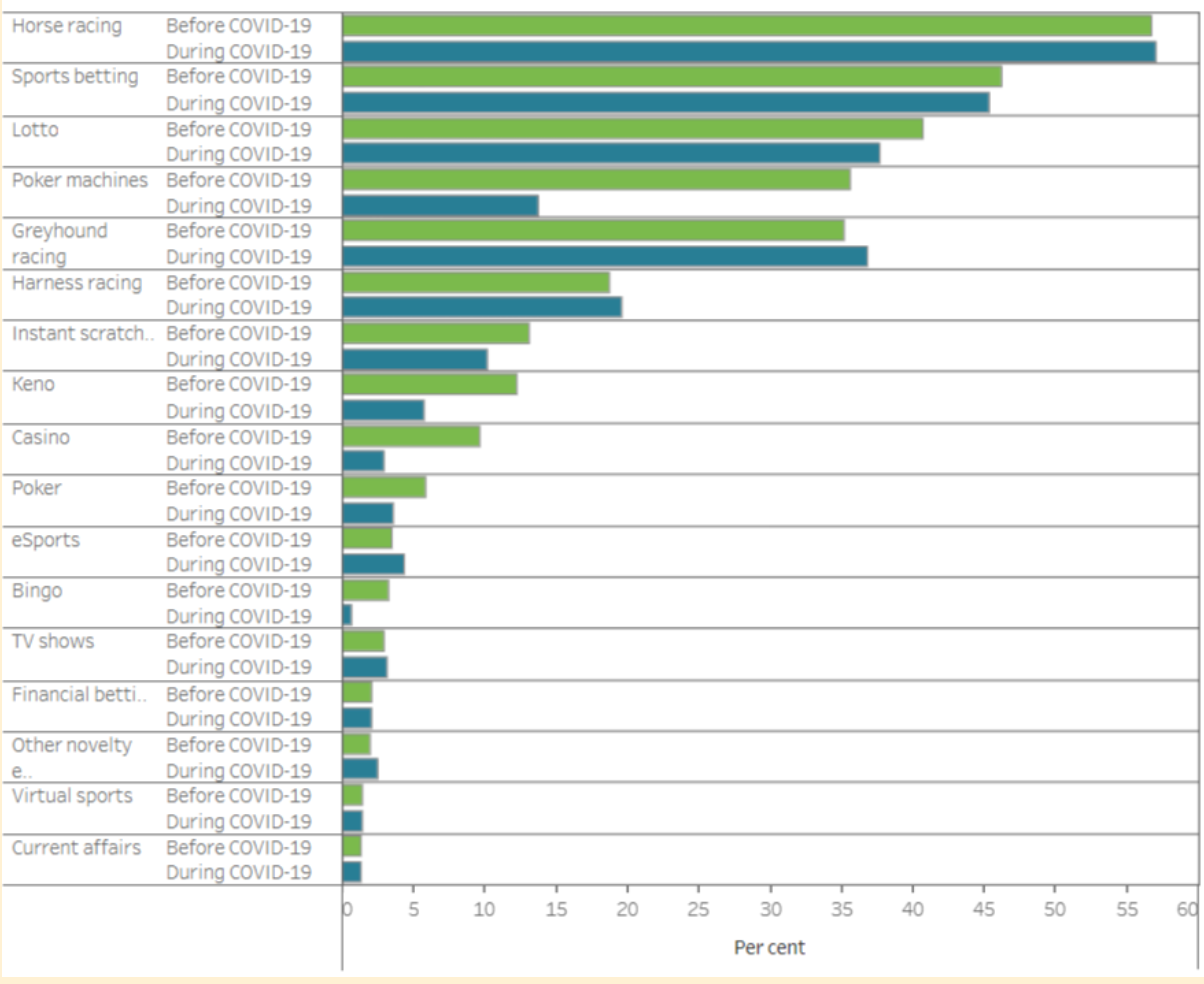 The ratio of people who reported gambling, by activity type, before (February 2020) and during COVID-19 restrictions (May to July 2020) (Jenkinson et al. 2020)
Another impact is regulatory changes made to protect vulnerable punters from gambling addictions due to prolonged isolation or loss of income caused by COVID-19. For instance, some states passed laws limiting deposits on gambling sites.
Everything ends sooner or later, and the pandemic gave gaming platforms and providers the impetus to find new solutions. Many casinos support mobile technologies to keep players` attention even after lifting all COVID-19 restrictions. Meanwhile, providers are releasing games with VR/AR and other technologies, forcing players to return to the virtual world again and again.
How do Australian Gamblers Compare to Other Populations
Las Vegas is one of the first places that comes to mind when hearing about gambling. Australia is a long way from America and other popular gaming places, especially when it comes to losses per person. Having studied the relevant statistics on gambling in Australia, you`ll find the numbers too big to mention. H2 Gambling Capital did one revealing study in 2017. It was found that Australia had the highest gambling losses ($958) per person that year. Hong Kong and the US came second and third with an average of $768 and $421 lost per person, respectively.
Thus, gambling statistics Australia indicate that the local players are the most audacious. They prefer big bets accompanied by big losses. On the other hand, everyone has a chance to win an impressive sum. Is it worth the risk? The Australians say it is!
Do Aussies Gamble Too Much?
Recent casino and sports betting stats show that the local market is exploring new trends like eSports and VR. This increases the already large audience of bettors because studies suggest that at least 11% of Aussies are involved in online gambling. Pokies, lotteries, and horse racing remain the most popular, with millions of Australian dollars betting annually.
Fortunately, the government has kept the growing popularity under complete control. Faced with addiction and other problems, players can count on timely help. Casino platforms are required to follow responsible gaming regulations, keeping track of every customer`s activity.